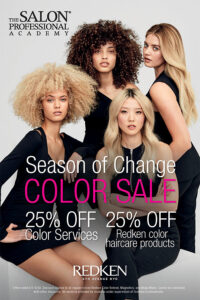 Fall is the season of change and we LOVE to celebrate change here at TSPA!  During the entire month of September, book any color service and receive 25% off of your service!  Hang on…hang on…that's not all!
Select retail products are 25% off as well!  PLUS, if you book/receive your next color service before 12/1/2021 you will receive $5 off of that service as well!
Wait!  We have one more treat for you…
Because we don't want to leave any of our guests out of the savings in September, we have a "Spin To Win!" prebook promotion for the month!  No matter what service you receive, if you prebook your next appointment with us, you will SPIN TO WIN a FREE additional service at your next appointment!
Head on over to our website  and use our EASY online schedule to book your next appointment NOW!