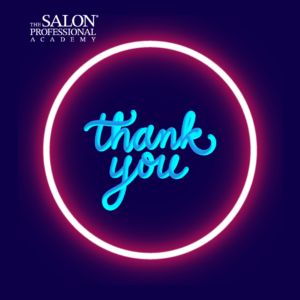 The Salon Professional Academy in Washington, D.C. would like to send a HUGE thank you to all of our friends, family and guests for making January 2023 our BIGGEST month EVER for our students!
During the month of January, our students were able to refine their respective craft on over 450 (FOUR HUNDRED AND FIFTY!) guests and providing those guests a total of 658 services!  WOW!
Attending cosmetology or esthetics school can be a challenge!  In most cases you are either attending school full-time so working is either limited or not an option OR you are working a full-time job during the day and attending school in the evenings part-time to achieve your dreams!  Most of the time in school is spent trying to perfect the various skills and techniques that you are going to be using once you graduate and find a salon or spa home.  Practicing on a mannequin, or fellow students can become mundane and repetitive.  While there is some practical benefit to both, nothing compares to the real world experience for working on an actual client that has come to the Academy for a service!
We often get asked what it's like for a student to perform services on guests.  The truth is, it's almost better than a salon or spa!  Most students are so focused on absolute perfection that the attention to detail you will receive from them is unlike any other!  Plus, we have top tier educators there to guide and help the students while they are performing your service.  However, because a student is learning, and the educator does have to check-in from time to time, the total time it takes for the service to be performed can be a little longer than an actual salon or spa.  What we ask for in terms of your time and patience, we try to make up for in the cost of the service!
What products does your salon or spa use?  Redken?  Mizani?  Pureology? Circadia?  Does your spa have a REAL HydraFacial machine?  Guess what?  WE DO and those are ALL of the products that our students are learning with and will be using during your service.  YES…the EXACT SAME hair color that a salon would use can be found in our cosmetology school right here in Washington, D.C.!  Our esthetics students are using Circadia products that can ONLY be found in spas and because we only partner with the best, our D.C. esthetics school has them here as well!  Ever taken a look at what a HydraFacial service would cost at your day spa?  Take a look at our service menu here to see how we compare!
Lastly, do you need a new skincare regimen?  How about home hair care to support your in-salon service?  Well…you guessed it!  We offer the same salon quality products at a reduced price because we are a trade school!  YES, the same exact products are less expensive at our Academy than in a salon.
If you have already been in to receive an amazing service from one of our INSANELY talented students, again, THANK YOU!  You are LITERALLY furthering their education and making a difference in their lives.  That is so invaluable and we appreciate you!  If you have NOT been in to receive a service yet…what are you waiting for?  Our students are waiting for you!
Call 202-21-9700 ext 101 to book OR visit www.tspadc.com to check us out.
We PROMISE you won't be disappointed.